Summary: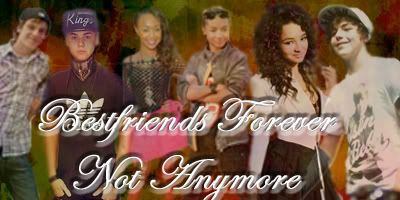 Banner By: iBeliebnMiley
Throughout school Cymphonique Jones was made fun of because she was different, unlike the girls that she went to school with who cared about shopping and boys Cymphonique was really into her music. She was all along until the fifteen grade when she met her Best friend Justin Bieber. He was always there for no matter. He was her rock, her shoulder to cry. But that all changed when Justin started dating his girlfriend Jessica Jarrell, Justin stopped caring about everyone and everything expect of Jessica.
What happens as the travel together on Justin world tour?
Will Justin and Cymphonique remind best friends or will everything be too much for Cymphonique to handle?
Find out in Bestfriends Forever Not Anymore
I know the summary is bad but the story is bettesr
Categories:
Characters:
Chaz Somers
,
Jeremy Bieber
,
Justin Bieber
,
Kenny Hamilton
,
Original Character (female)
,
Original Character (male)
,
Pattie Mallette
,
Ryan Butler
,
Ryan Good
,
Scooter Braun
Genre:
Drama
,
Friendship
,
Mystery
Length:
Multi-Chapter
Tags:
friend
,
hurt/comfort
,
lost love
,
love/hate
,
tour
Warnings:
Death
,
Emotional Abuse
,
Graphic Violence
,
Language
,
Physical Abuse
,
Self-Harm
Series:
None
Chapters:
5
Table of Contents
Completed:
No
Word count:
7507
Read Count:
4998