Summary: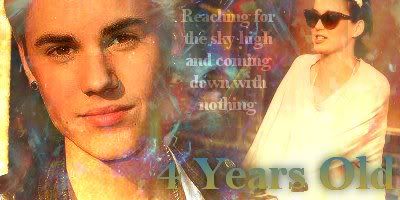 Justin Bieber, just recently lost his girlfriend of 2 years, Selena Gomez in a terrible accident. He drinks and sits on the couch and wastes his life away, every day. He doesn't see why he should exist anymore. All he wanted was to marrry her and spend the rest of his life with her, but now he can't. He claims to ruin everything he touches...
Ariah Harper, cousin of Selena Gomez and only 19. This Californian beauty has been single her whole life, and love seems to hate her. After hearing about her cousins death, she reaches out to Justin. She thinks that maybe they can help each other cope through loss.
What will happen when they meet for the first time?
Will Justin push her away? Or let her in to help him cope?
After all, fate does have a weird way of bringing two hearts together
"Reaching for the sky high, and coming down with nothing" - 4 years old, Chris Brown

______________________________________________________________

Banner made by erinaa01 on bieberbetas.com
Categories:
Characters:
Justin Bieber
,
Original Character (female)
,
Original Character (male)
,
Pattie Mallette
Genre:
Drama
,
Family
,
Friendship
,
Humor
,
Hurt/Comfort
,
Romance
,
Tragedy
Length:
Novel Length (50,000+ words)
Tags:
None
Warnings:
Death
Series:
None
Chapters:
1
Table of Contents
Completed:
No
Word count:
2383
Read Count:
124