Summary:
*Goodbye old chapters! Hello new chapters!*
CHAPTERS CURRENTLY BEING ENHANCED
During a bank robbery, a man named Ralph saves a lady named Pattie from harm.
That day forth, is when two lives get changed.
Pattie and Ralph fall in love and decide to get married
but there's one tiny problem:
They both have a son
Justin Bieber, meet Jason McCann
Jason McCann, meet Justin Bieber
These two are the newest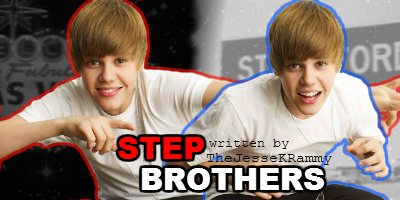 Since Jason is so aggressive and mean, Justin wants to change him into a kind, friendly person.
But Jason refuses, abusing Justin in many ways.
That's not stopping Justin, or Jason
Can a Good Boy change a Bad Boy?
Categories:
Characters:
Jason McCann
,
Justin Bieber
,
Original Character (male)
,
Pattie Mallette
Genre:
Action
,
Drama
,
Family
,
Fluff
,
Friendship
,
Humor
,
Hurt/Comfort
,
Mystery
,
Suspense
,
Tragedy
Length:
Epic Length (100,000+ words)
,
Multi-Chapter
Tags:
bromance
,
brother
,
canada
,
criminal
,
death
,
fluff
,
friend
,
funny
,
hurt/comfort
,
love/hate
,
marriage
,
not famous
,
school
,
wedding
Warnings:
Death
,
Emotional Abuse
,
Graphic Violence
,
Language
,
Physical Abuse
,
Self-Harm
,
Suicide
Series:
None
Chapters:
42
Table of Contents
Completed:
No
Word count:
499167
Read Count:
59180