Summary: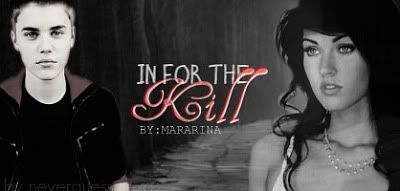 Meeps VS. Centralies
It's war. And in order to keep yourself & your people alive, you have to kill your opponents. Little by little until there's no more.
Well, that's Karina's job. Being the leader of a small group of Meeps, her duty is to kill the Centralies to protect her people. But her focus is on the Centralies leader, Justin. Because if she killshim, the Centralies system for war will collaps, and the Meeps would have a chance to win.
That's all Karina needs; a chance to win. She needs to kill.
And Justin? He plans to kill her too.
But easier said than done. Nothing's easy in life.
Much less easier, when you're all In For The Kill.
**NOTE: This story is NOT super-natural.
**WARNING: Contains violence, blood, & tears.
Author of 'Silence That Fell Upon'.
Categories:
Characters:
Justin Bieber
,
Original Character (female)
Genre:
Action
,
Suspense
,
Tragedy
Length:
Epic Length (100,000+ words)
Tags:
hurt/comfort
,
love/hate
Warnings:
Physical Abuse
Challenges:
Bitches, Im Serious.
,
Road Trip/ One The Go Stories
,
Physics;
,
I NEED SOMETHING TO READ! WHERE ARE ALL THE GOOD WRITERS CANT FIND THEM!!
,
I NEED STORIES!
,
ALL NIGHTER ;)
,
boobies!
,
SEND THEM ALL IN!
,
Something to read
,
Well then...
,
I'm freaking bored.
Series:
None
Chapters:
6
Table of Contents
Completed:
No
Word count:
7833
Read Count:
3489